FREE!  Make your day delicious!  Get the "Gluten Free Homemade Newsletter".  Click here! 
FTC Disclosure:  When you make a purchase via an affiliate link, GlutenFreeHomnemade.com may earn a commission on the transaction at no added cost to you.

An Insider's SBI Review--How to Choose the Best Online Business Builder!
Updated January 5, 2018
Dear Friends,
This SBI review does more than show you how to avoid the pitfalls of choosing a mere website host in a lightening-paced industry where 90% of websites fail in the first year.
It helps you to make the best decision possible so you can pursue your long-term goals and make your dreams come true.
All the information and resources you need, plus more, are compiled on one convenient page so you can choose the very best online business builder for your long-term success.
There is nothing worse than waking up one morning and realizing after all your hard work and better-than-best efforts, your online business is doomed to fail!
Whether you've done everything right that you know of
you can't keep up with the internet's rapid changes
cannot find enough time and energy to keep your website up-to-date and relevant
or create enough content to make your website rank in the search engines
let alone drag in visitor traffic that gets the click so you can earn some money, only to find out
your website was bombed by Google's latest algorithm
and is now invisible and you don't have a clue as to how to fix it . . .
. . . Horror stories!

Whatever the reason, you are stuck with a beautiful website, but it is not working for you . . . it is failing.
--Tired of scanning the internet for a content management system for your unique website concept only to have your eyes roll back in your head from information overload?
--Are you looking for more than a website host, but don't know have enough information to make the best decision for yourself?
--What information you do find is incomplete and conflicting, so now you are more confused than ever and feel like you know less than when you started looking?
--You don't know who to trust not to take advantage of you and leave you even less successful than you already are without fleecing you of your hard-earned money, too?
--Can't tell the good information from the bad or the FAKE reviews from the REAL ones?
You are Not Alone!
Once upon a time, I was there myself and the experience is as fresh in my mind as the morning I woke up with that wrenching knot in my stomach, when I realized, despite my better-than-best efforts, my website had failed.

I was smart enough to know that continuing to do what I had been doing was not going to make success happen no matter how many hours I worked at it.
Denial of the circumstance was not going to make things better.
Like you, I had a wonderfully inspiring idea I just knew everyone in the world would love, but I had no cash.
I made the mistake of thinking I could boot-strap my new internet business by using free Google Sites.  It wasn't long before I found out doing so would bring in no visitor traffic, nor was the platform able to sustain any kind of business, let alone a growing one.
Still, ever mindful of my single-income household, I decided to migrate my website to another free platform, Google Blogger. I chose a domain name and pointed it to my blog, gained a following and quickly learned I didn't know enough to make a successful go of it.
My blog was doomed to fail!
In retrospect, it had failed before I even started, because there was no way I could build and run a web business all by myself.
During that first year, I studied all kinds of website builders and the reviews about them.
Please keep this in mind; I'm that 1% of people who remain unmoved by even the most sophisticated sales pitches.  The harder the sales pitch tries to convince me to buy, the more suspect I become and the more resistant I am to click through to purchase.
I'm just not easily parted from my money and my trust is very hard-earned;  I don't apologize for it, either, as careful vigilance has served me well.
During this time, I had stumbled across Site Build It! reviews.
Impressive!
But, others were, too.
In order to get at the truth, I studied and learned about the successful online entrepreneurs I admired; real people who were just like me, who had succeeded . . .
. . . people such as, Steve Pavlina and Lisa Irby.
Imagine my pleasant surprise when I discovered they attributed their success to SBI!
I dug deeper and found many, many more website owners, all who were successful because of SBI!
FAKE vs REAL
Back then, it was much easier to find REAL SBI! reviews (Solo Build It!).
Today, a deeply disturbing trend has become a huge problem online.
Spinners of FAKE reviews are paid to intentionally destroy the fine reputation and trust SBI! has worked hard for years to achieve, but they don't just stop there.

SBI Review Tip
Weed out the FAKE reviews from the REAL reviews, by studying and learning about the reputable successful solopreneurs in your niche.  Get verifiable proof of their success.  Get in touch with them and ask your burning questions; most of them are happy to help others succeed, too.

These FAKE reviews persuade unsuspecting visitors to purchase an inferior product with a horrendous fail rate . . .

. . . Talk about being fleeced!
The reason I wrote this webpage was, because I have been a victim of deception before.

As a result, I had to rebuild a whole new life. 
That's how destructive FAKE can be!
This is why I am motivated to spare others from unknowingly falling victim to the evil schemes of wolves in sheep's clothing.
It's a sick, sick thing, when people are willing to get paid to hurt others and destroy their livelihoods and dreams.
FAKE are purposefully, hateful lies.
Lies obliterate trust . . .
. . . the very trust we all rely upon to build and nurture highly esteemed and valued relationships, something all living things and businesses need in order to thrive.
In fact, FAKE has become so damaging the government and consumer protection groups are seriously considering taking action against instigators.
Would you agree with me, it makes good sense to choose an online business builder with integrity over one that engages in character assassination and other devious business practices?
How about choosing an online business builder with a proven track record for success, backed by reliable, transparent information and a study based on repeatable scientific and statistical methodology?

I built THIS website into an online business based on the keyword, gluten free homemade; you know it as GlutenFreeHomemade.com and it is considered a success, gaining in industry authority and profitability every day.
According to the study, GlutenFreeHomemade.com would have failed without SBI!, which corroborates my personal story.
SBI!'s competitor has only 53 websites ranking in the top category, less than a tenth of SBI!'s results and they have 70% more websites!
Would you agree with me, it makes good sense to choose an online business builder with proven success rates year in and year out, while competitors come and go in a fast-paced industry?
It's an indisputable track record!
Proof like that speaks volumes; beyond compare!
SBI! Helps You Build a Successful Online Business
Say goodbye to failure and hello to success . . . industry authority, income, business profitability and equity!
SBI! starts at the beginning, helping you develop a viable business concept and a realistic business plan.
Their proven Content==>Traffic==>PREsell==>Monetize process helps you build an enduring business even in today's ever changing high tech marketplace.
They provide all the information and support you need at every stage to grow a profitable, income producing business entity with equity.
Recommended by Professionals!
"I've had quite a bit of media coverage (BBC Radio, The Guardian, The Telegraph, The Independent), as well as many radio and local shows. And WeddingTV (a Sky channel) contacted me about doing a series in the UK.  Credit crunch and cheap weddings seems to go hand-in-hand It's fantastic to get picked up by reputable media. It's a testament to what SBI teaches. So thank you SiteSell, I've learnt so much over the last two years and I love it!"
--Nicola Ray, cheap-wedding-success.co.uk
"Anne (an Oprah researcher) had found our website, www.your-rv-lifestyle.com! She explained that Oprah was doing a show about the impact of the economy on people's finances and retirement plans.  What a great testimonial to the power of SBI!."
--Jill Ferrer, your-rv-lifestyle.com

"It all began last week when Matt who writes a weekly travel column called "The Frugal Traveler" contacted me to request an interview. He had found me through my SBI website, of course and interviewed me by phone on Thursday.  I knew I wanted to stop and write this quick note to say...Thank you, SiteSell and thank you SBI! I am riding high on cloud nine and intend to keep the momentum going."
--Randy Sturrock & Marianne Edwards, frugal-rv-travel.com

SBI!
(also known as:  Solo Build It! or Site Build It!)
Already Have a Website? Not Successful?
See why People are Excited!
"I plan on continuing into our retirement years. . . . I hope to pass the business down to one of our children or grandchildren. . . . I am truly enjoying the journey!"
--Lorelie Carvey, wedding-cakes-for-you.com 
(Lorelie Carvey. Credit for this photo goes to John Munno of John Munno Weddings.)
Lorelie Carvey
When it comes to building an online business, not all tools, tips and tricks of the trade you use are the same.
If you're like me, optimizing time and energy is very important.
It's why just any flashy website builder won't due.
When you need more than a content management system, because your website concept is just part of a larger plan, then a specially designed online business builder, like SBI!, is what you need to get the job done right.
Tips for Building an Online Business
1. It is imperative you develop a business mindset, because an online business is very different from a website.  Before you start, learn some basic business principles so you can understand what is happening as you build your business.

2.  From the beginning, build the foundation for your online business right.  Do thorough market research about your business concept (topic) in order to the find the perfect niche, thus ensuring your business' long-term success.

3.  Build a business blueprint, what your business will look like, how it will be structured and how all the pieces of it fit together to make a marketable entity that can sustain long-term business growth.

4.  As part of market research, evaluate the monetization, profit, income and equity potential of your topic and niche.

5.  Determine the marketability of your business concept, what personality it requires to suit its target audience, part of developing your "brand".  Once your business concept has met all the success factors, determine which domain name best imparts the marketable "brand" you will develop.

6.  Begin building the foundation of the website part of your online business.  Learn how to choose and build a marketable website design, write and publish purposeful and evergreen content, and how to begin marketing your business, including social media marketing.

7.  While continuing to add outstanding content to your website, learn how to attract more traffic, and to increase it through the search engines and other traffic sources.

8.  Learn how to develop and grow wonderful business relationships with your business visitors and business colleagues, and find ways to meet their needs within the scope of your business concept.

9.  Develop a target audience profile by evaluating data about your visitors so you can better target your content to meet their needs, wants and desires.

10.  Once you have fine-tuned your target audience profile, monetize your online business accordingly.

I love SBI!  Their Online Business Builder is jam packed with everything I need to build and run my successful online business.
From the beginning, Solo Build It! (SBI!) helps you build the foundation for your business right.
Their amazing Action Guide is like a road map to success; if you follow it, you can't help but build a profitable, income producing business with equity.
I really enjoy the BlockBuilder with built-in Page Manager; it makes building, publishing and managing webpages quick and easy, and I don't have to know any HTML to start!
Did I mention all the marvelous tools included?  Wow!  I couldn't do business without them, because they help me to keep third-party applications to a minimum.
My favorite tools are BrainstormIt! keyword tool, Sitebuilder and BusinessCenter, which have everything I need to build and grow my business.
Then, there are the active forums, where I have built solid relationships with like-minded business colleagues around the world.  If I have a problem I don't have the expertise to solve, I can get the help I need from my friends in the forums.
There's nothing like the wonderful feeling you get when you can give back by helping a friend or a newbie with their problems and share their joy when they succeed.
When my online business recently hit a wall and I didn't have the expertise to overcome the challenges, I consulted with an SBI! Professional.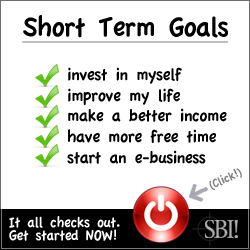 Together, we developed a new plan of action to take my online business to the next level, while at the same time laying the foundation for levels beyond.

It's only been a short time since that consultation and already my business is reaping fabulous results . . . it has a promising future!
One of the biggest reasons I chose SBI! is for one of the most important functions they do, review and evaluate for integrity, reliability, validity and relevance all the latest information, trends and changes in the internet industry.
I was unable to keep up with the staggering volume of vital information I need to know in order to succeed.  SBI! weeds out the "noise" and makes available what I need to know, which means less for me to manage so I can focus 80% or more of my time and energy growing my business.
Moreover, SBI! notifies me when I need to implement an industry change, such as responsive design or securing my online business in a world of increasing e-terrorism.
Then, SBI! does a lot of work behind the scenes making these implementations as "automatic" as possible, requiring very little from me to do.  
What I am required to do, they teach and tutor me all the way through it.
If I still need more help, then they are there to help in the forums, along with my friends and colleagues.
As a solopreneur, if I were to try to keep up with this high paced industry on my own, my business would fail.
There are not enough hours in a day for a solopreneur to implement and manage all the behind-the-scenes stuff necessary to run and grow a successful online business.
It's Priced Right, Much Less than Others.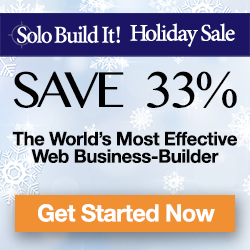 What I receive from SBI! is superb quality.  Their product is extremely indispensable.  So much so, I truly could not run and grow a successful online business without them.
The on-going education, professional support and auxiliary services, including all the other valuable things they offer I previously mentioned . . .
. . . are priceless!
If I were to put a price-tag on everything SBI! offers that I need to run and grow my online business, I would pay out thousands or more a year and I would still come up short on what I need to succeed.

Why?

Because, I'm just a regular person, just like you, and I don't know everything I need to know in order to succeed.
What if I miss something really important to know or to implement in order to secure my business' success?
It's only a matter of "when", not "if", this will happen.
Having SBI! is like insurance; they mitigate this risk so I don't have to worry about it any more.
SBI! has my back and my best online business interests at heart.
If my online business succeeds, and it is, then they succeed, because they've done what they have set out to do . . .
. . . genuinely help solopreneurs succeed one online business at a time.
This is why their proven track record reflects their prime accomplishment, helping solopreneurs create, the most high-ranking successful online businesses in the industry, by far.
No other website builder comes close, because website builders don't build successful online businesses; they only publish pretty websites.
Would you agree with me it isn't worth risking your success with a pretty website builder when, for a fraction of the price, you can have a profitable, income producing online business with equity? 
Invest in yourself, your idea, your dream.  If you have the brains, a can-do attitude, motivation (BAM) and unwavering commitment, then you have what it takes to succeed, and SBI! is the best there is to help you make it happen!
It's true!
If I can do it, you can, too!
Everyday People Building Extraordinary Businesses . . . Every Day

Though SBI! requested I write and publish this SBI! review on their behalf, I happily did so from the heart, because it is my way of giving back to a community of some of the finest people I know who have helped me succeed.
It is my sincerest wish to help you succeed, too.
Consider it my way of helping to make the world a better place one person at a time.
To prove my sincerity, I make no money from the links in this SBI! review.
The links exist solely for your benefit, so you can get all the information you need to make the best possible decision for yourself.
I make a living doing what I love, sharing my passion for gluten free homemade food in my recipes and online.
You can learn how to make income doing what YOU love, too!
Please join me and thousands of others; with SBI! you can have a big, bright future.
Wishing you all the success in the world,
Cat McMahon